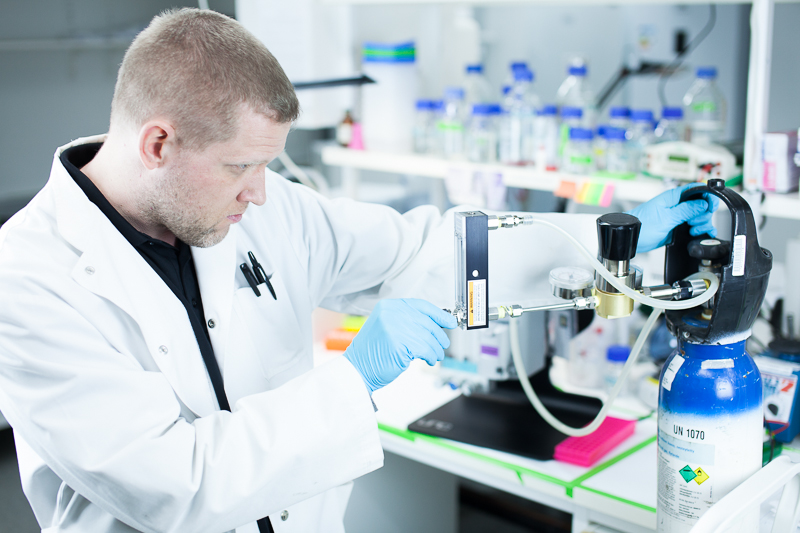 The principal investigator of our lab (Laboratory of Neurotherapeutics), Academy Research Fellow Tomi Rantamäki, has been selected as tenure track Associate Professor (molecular pharmacology) in the Faculty of Pharmacy. All the team members congratulate our visionary leader for this fantastic accomplishment.
Dr. Tomi Rantamäki has master´s degree in pharmacy (2003, University of Eastern Finland), a PhD degree in pharmacology and neuroscience (2006, University of Helsinki, Finland) and a docentship (Adjunct Professor) in neuropharmacology (2011, University of Helsinki). In 2014 he received the Fellowship grant from the Academy of Finland and with this grant he was able to establish his research group to the University of Helsinki. Tomi´s group investigates the therapeutic potential and underlying neurobiological mechanisms of sedatives and anesthetics, particularly volatile and gaseous, against nervous system disorders associated with compromised neuronal plasticity. Main focus is in discovering novel rapid-acting treatment concepts for depression.
Tomi has >30 peer-review publications (H-index 17; >1200 citations) in scientific journals including Neuropsychopharmacology, Journal of Neuroscience, Neurobiology of Disease and Developmental Neurobiology. He is a Member of Council in the Brain Research Society Finland (BRSF) and a member in the following societies: BRSF, Federation of European Neuroscience Communities (FENS), Society for Neuroscience (SfN), Finnish Pharmaceutical Association and Finnish Pharmacological Society. He has been a reviewer in >20 journals including Neuropharmacology, Scientific Reports and International Journal of Neuropharmacology. Tomi has been 2 times a PhD thesis opponent, 3 times a docentship reviewer, 7 times a PhD thesis reviewer and has supervised 4 PhD students.